Her dream job

USC Gould School of Law
Friday, July 30, 2021
Background as prosecutor informs Prof. Marcela Prieto's scholarship and teaching.

By Leslie Ridgeway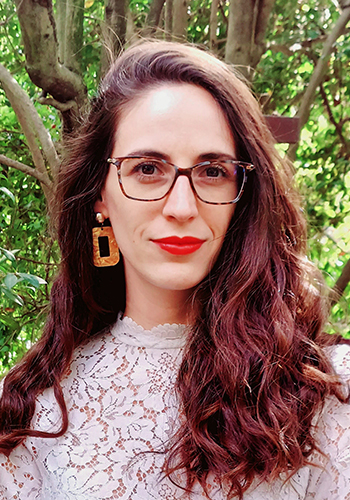 Marcela Prieto's introduction to the USC Gould School of Law has been anything but typical, beginning with a year-long fellowship that started a few months before the pandemic began, and transitioning in summer 2020 to her position as assistant professor, right in the middle of the lockdown.
In spite of the unusual circumstances, she has segued neatly into teaching public international law and criminal law, a role she's uniquely suited for with her background as a prosecutor in Chile, her country of origin, where she prosecuted crimes against humanity that took place during the infamous regime of dictator Augusto Pinochet.
Prieto, who graduated in 2015 with an LLM degree from New York University and obtained her Doctor of Juridical Science degree from NYU in 2020, says she is stimulated both by interacting with students and conducting research on public international law, comparative constitutional law, and the laws that regulate armed conflict.
"My career developed naturally because of my preferences for what to pursue and what I like to research," she says. "I like engaging with students, and to be a practitioner. I enjoyed being an advocate at trial as a prosecutor. And I also enjoy research and thinking about the moral and political issues of our time."
In the classroom, Prieto highlights systemic aspects of public international law that can lead to damaging outcomes, including the role of colonization and gender. In criminal law, she discusses the gendered and racialized ways in which the criminal system operates in the U.S. The goal is to encourage students to question these parameters and how they affect adjudication of cases and the organization of the legal system, she says.
"I aim to instill in students the idea that criminal punishment is one of the worst things democratic states do to their own people," she says. "So we should think carefully about whether and in what circumstances criminal punishment is justified, what are its legitimate goals, and what should be changed. I don't want students to believe anything in particular; I want them to think about these issues and come to their own conclusions."
Living and earning a law degree in Chile gave Prieto a distinct perspective on the downsides and upsides of how legal systems are organized, she says. "We have a tendency to naturalize the legal system we're most familiar with, but we should fight against it. Most features of a legal regime are contingent and can be changed, and I want students to realize that," she says.
Prieto's public international law course delves into pressing issues facing the international community today, such as climate change and the resulting human migrations that are expected to have an impact on nations, economies, and policies for years to come.
"We will talk about the problem of collective action, how to solve climate change, and how international environmental law has played a role in domestic suits filed by people against their own governments," she says.
Starting work at USC Gould during the pandemic has presented challenges and opportunities, including not seeing her parents for a year, and discovering advantages to teaching via Zoom, though she's looking forward to getting back into a bricks-and-mortar classroom. Meanwhile, she's settling in to her new city of Los Angeles, enjoying the neighborhoods, the weather and the people, and especially her new academic home at USC.
"I'm very happy to be here," she says. "It's an honor and a privilege to be here teaching great students and doing research with a wonderful set of colleagues. It's the dream job."
RECENT NEWS