Tax Institute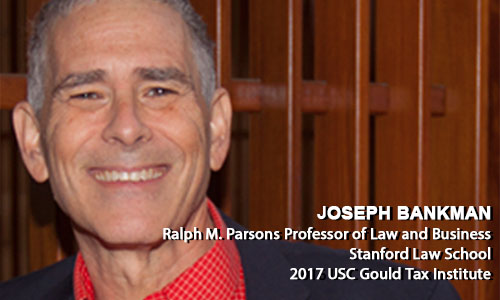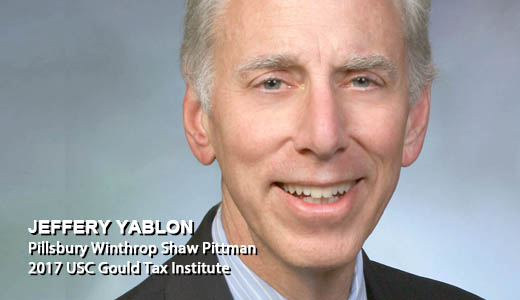 January 29-31, 2018
Millennium Biltmore Hotel
Los Angeles
The USC Gould School of Law Tax Institute
Over 500 of your professional peers will again converge at the Millennium Biltmore Hotel on January 29-31, 2018 to address cutting-edge tax issues affecting corporations, privately held companies, partnerships and real estate, individuals, tax ethics, enforcement and compliance, and estate planning. This three-day institute features popular updates on current developments, afternoon breakouts sessions, intimate evening workshops and three networking receptions. CE units for lawyers, accountants and financial planners, and legal specialization credit in Taxation Law and Estate Planning, Trust and Probate Law, are available.
The USC Tax Institute
The 2018 Tax Institute will feature the same big names, informative panels and real-world takeaways as seen at past Institutes.
Three Days of Tax Tips - Highlights from the 2017 Institute
Monday - Business Tax Planning
Popular speaker Mark Silverman (Steptoe & Johnson) was joined by Gregory Kidder (Steptoe & Johnson) to kick off the Institute with his annual review of recent developments in corporate tax planning. Other sessions focused on corporate and business tax planning issues. Stanford Law Professor Joe Bankman gavethe lunch keynote presentation on tax policy. The day included a hosted networking reception and evening workshops.
Tuesday - Partnerships, Real Estate, Individual, and Enforcement
One of the country's leading experts on partnership tax, Eric Sloan (Gibson, Dunn & Crutcher), started the day of three concurrent tracks of programming, focusing on partnerships and real estate, individual tax planning, and tax ethics, compliance and enforcement issues. Caroline Ciraolo gave the luncheon keynote address. The day ended with a hosted networking reception and evening workshops.
Wednesday - Estate Planning
Wednesday was dedicated to estate planning issues. Charles "Skip" Fox (McGuireWoods) provided an overview of developments. Jeffery Yablon (Pillsbury Winthrop Shaw Pittman) gave the luncheon keynote presentation. The day ended with a hosted networking reception and evening workshops.
Keep checking back for updates on the programming information for the 2018 Institute as we have it. For an overview at last year's program, click here.
Sponsorship Opportunities
Sponsorship of the 2018 Tax Institute includes ticketing, publicity, exhibiting and other benefits, depending on the level of sponsorship chosen. Click here to learn more about sponsoring the 2018 Institute, including information about our basic sponsorship option and the sponsorship of meals, receptions, breaks and giveaways. Let us tailor your sponsorship opportunity to best serve your needs.
Social Media
Follow us socially on Facebook/USCLawCLE and Twitter (@USCGouldCLE) for the latest news and updates on our speakers and programming. Find us online using the #USCCLETAX.
Connect with the USC Gould Continuing Legal Education office by joining us on LinkedIn.