Faculty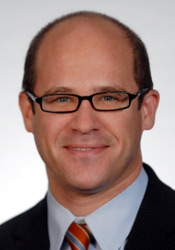 Orin S. Kerr joined the faculty at USC Gould School of Law in January 2018 as the Frances R. and John J. Duggan Distinguished Professor of Law. From 2001 to 2017, he was a professor at the George Washington University Law School. Kerr has previously been a visiting professor at the University of Chicago and the University of Pennsylvania. An accomplished teacher, Kerr received the outstanding teaching award from the George Washington Law School Class of 2009.
Kerr specializes in criminal procedure and computer crime law, and he has also taught courses in professional responsibility, evidence, and criminal law. In addition to writing more than 50 articles, he has authored and co-authored popular casebooks and co-authored the leading criminal procedure treatise. Since 2001, his publications have been cited in over 2,500 articles and more than 250 judicial opinions. He also posts regularly at the Volokh Conspiracy and the Lawfare blog, and he maintains an active presence on Twitter.
Kerr has argued cases in the United States Supreme Court and three federal circuits. He has testified six times before Congressional committees. In 2013, Chief Justice Roberts appointed Kerr to serve on the Advisory Committee for the Federal Rules of Criminal Procedure. In 2015, the Chief Justice again appointed him to serve on the Judicial Conference's committee to review the Criminal Justice Act.
Kerr graduated from Princeton University and received a master's degree in mechanical engineering from Stanford University. He earned his law degree from Harvard University, where he was executive editor of the Harvard Journal of Law and Public Policy. After law school, he clerked for Judge Leonard I. Garth of the U.S. Court of Appeals for the Third Circuit and Justice Anthony M. Kennedy of the United States Supreme Court. He then served as a Special Assistant U.S. Attorney in the Eastern District of Virginia and as a trial attorney in the Computer Crime and Intellectual Property Section at the U.S. Department of Justice.
FACULTY IN THE NEWS
The Washington Post
February 14, 2018
Re: Orin Kerr
Orin Kerr had comments cited about a possible payment President Donald Trump's lawyer made to an adult-film star to remain silent about a sexual relationship with Trump. "All Cohen says is that he used his personal funds to 'facilitate a payment of $130,000,'" Kerr writes. "To 'facilitate', the dictionary tells us, means to assist with or to make something easier. Given that, I would think that the most literal reading of Cohen's statement is just that he used his own funds to arrange the payment." MSNBC also cited the comments.
RECENT SCHOLARSHIP
Jonathan Barnett
December, 2017
"The Costs of Free: Commoditization, Bundling and Concentration," Journal of Institutional Economics.
Edward Kleinbard
December, 2017
Edward Kleinbard wrote an op-ed, "Tax Bill Demonstrates our Nation's Upside Down Fiscal Priorities," posted to The Hill on December 21, 2017.
Jonathan Barnett
December, 2017
Jonathan Barnett participated in a panel discussion on "Supreme Court Patent Cases: Oil States and SAS Industries", Patent Disputes Forum South, Beverly Hills, CA.