Faculty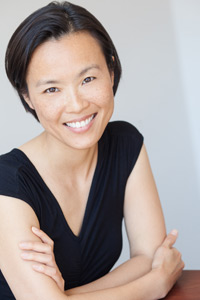 Emily Ryo is an associate professor of law and sociology at the USC Gould School of Law. She received a JD from Harvard Law School and a PhD in Sociology from Stanford University. Immediately prior to joining USC, she was a research fellow at Stanford Law School. She served as a law clerk to the Honorable M. Margaret McKeown of the Ninth Circuit Court of Appeals, and practiced law at the international law firm of Cleary, Gottlieb, Steen, and Hamilton.
Her current research focuses on immigration, criminal justice, legal attitudes and legal noncompliance, and procedural justice. She approaches these issues through innovative interdisciplinary lenses, using diverse quantitative and qualitative methods. As an empirical legal scholar, she has published widely in both leading sociology and law journals. She has been awarded the 2017 Andrew Carnegie Fellowship to support her scholarship.


Publications
"Fostering Legal Cynicism through Immigration Detention," 90 Southern California Law Review 999 (2017). - (PDF) - (SSRN) - (bepress)
"On Normative Effects of Immigration Law," 13 Stanford Journal of Civil Rights & Civil Liberties 95 (2017). - (SSRN) - (Hein)
"The Promise of a Subject-Centered Approach to Understanding Immigration Noncompliance," 5 Journal on Migration and Human Security 285 (2017). - (PDF) - (www)
"Legal Attitudes of Immigrant Detainees," 51 Law & Society Review 99 (2017). - (SSRN) - (bepress) - (www)
"Detained: A Study of Immigration Bond Hearings," 50 Law & Society Review 117 (2016). - (SSRN) - (bepress) - (www)
"Less Enforcement, More Compliance: Rethinking Unauthorized Migration," 62 UCLA Law Review 622 (2015) - (www) - (SSRN) - (bepress) - (Hein)
"Moral Judgments, Expressive Functions, and Bias in Immigration Law," 35 Immigration and Nationality Law Review 3 (2014). - (SSRN) - (bepress)
"Deciding to Cross: The Norms and Economics of Unauthorized Migration," 78 American Sociological Review 574 (2013). - (www) - (bepress)
"Poverty Alleviation through Public Works," in Rebuild America: Solving the Economic Crisis through Civic Works (Scott Myers-Lipston ed.) (Boulder, CO: Paradigm Publishers, 2009).
"The Lost Sanctuary: Examining Sex Trafficking through the Lens of United Status v. Ah Sou," 41 Cornell International Law Journal 739 (2008) (with Hon. M. Margaret McKeown). - (Hein) - (bepress)
"Culture of Poverty," in Encyclopedia of Race, Ethnicity, and Society (Richard T. Schaefer ed.) (Thousan Oaks, CA: Sage Publications, 2008).
"Organizational Diversity, Vitality, and Outcomes in the Civil Rights Movement," 85 Social Forces 1561 (2007) (with Susan Olzak). - (bepress) - (Hein)
"Through the Back Door: Applying Theories of Legal Compliance to Illegal Immigration During the Chinese Exclusion Era," 31 Law and Social Inquiry 109 (2006). - (Hein) - (bepress)
"Did Katrina Recalibrate Attitudes Towards Poverty and Inequality? A Test of the 'Dirty Little Secret' Hypothesis," 3 Du Bois Review 59 (2006) (with D. Grusky). - (bepress) - (www)
"Elusive Citizenship: Immigration, Asian Americans, and the Paradox of Civil Rights," 2 Law, Culture and Humanities 472 (2006) (book review). - (www)
FACULTY IN THE NEWS
KTAR-FM
October 15, 2017
Re: Edward Kleinbard
Edward Kleinbard was interviewed about President Donald Trump's tax plan on how it will impact America's middle class. "It's not a very coherent philosophical document other than let's cut taxes on the most affluent Americans," Kleinbard said.
RECENT SCHOLARSHIP
Gillian Hadfield
August, 2017
Gillian Hadfield attained SSRN's designation as being in the top 10% of Authors on SSRN by all-time downloads.
Abby K. Wood
August, 2017
Abby Wood's paper, "To See or Not to See? Campaign Finance Disclosure and Voter Competence" was accepted to the 2017 Conference on Empirical Legal Studies (after peer review).
Jonathan Barnett
July, 2017
"Does the Supreme Court Understand the Innovation Economy?" (with Ted Sichelman). Forbes Magazine Opinion (July 2017).