Faculty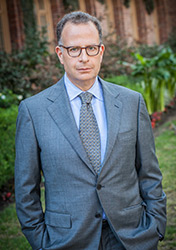 Edward D. Kleinbard is the Robert C. Packard Trustee Chair in Law at the USC's Gould School of Law, and a Fellow at The Century Foundation. Kleinbard was one of four individuals honored as 2016 International Tax Person of the Year by the nonpartisan policy organization Tax Analysts. He is the author of a book, We Are Better Than This: How Government Should Spend Our Money, published by Oxford U. Press. In reviewing the book, Pulitzer prize-winning journalist David Cay Johnston described it as "a masterpiece of tax, fiscal, and economic policy."
Kleinbard joined USC Gould in 2009. Before joining USC Law, Kleinbard served as Chief of Staff of the U.S. Congress's Joint Committee on Taxation. The JCT Staff are the nonpartisan tax resource to Congress, helping legislators to formulate legislation, writing analyses of legislative proposals or tax issues of interest to the Congress, and estimating the revenue consequences of legislative proposals.
Kleinbard's work focuses on the taxation of capital income, international tax issues, and the political economy of taxation. Kleinbard's recent papers include Competitiveness Has Nothing to Do With It (Tax Notes), Stateless Income (Florida Tax Review), The Lessons of Stateless Income (Tax Law Review), Through a Latte Darkly: Starbucks's Stateless Income Planning (Tax Notes), The Better Base Case (Tax Notes), Herman Cain's 9-9-9 Plan (Tax Notes), and Tax Expenditure Framework Legislation (National Tax Journal). Kleinbard has testified before the Congress on tax policy matters, and has written opinion pieces for the Wall Street Journal, New York Times, the Huffington Post, CNN.com, and other media outlets.
Prior to his appointment to the Staff of the Joint Committee on Taxation, Kleinbard was for over 20 years a partner in the New York office of Cleary Gottlieb Steen & Hamilton LLP. Kleinbard received his JD from Yale Law School, and his MA in History and BA in Medieval and Renaissance Studies from Brown University.
Recent Presentations:
What's a Government Good for? Fiscal Policy in an Age of Inequality. Presented at University of George 115th Sibley Lecture, February 5, 2018; ABA Section on Taxation 2018 Mid-Year Meeting, February 10, 2018.
Perversion of the Tax Policymaking Process, January 29, 2018
To watch Kleinbard deliver "Searching for our Fiscal Soul" at TEDX Livermore, please visit: https://youtu.be/16F04Jr-m10
To watch Kleinbard discuss his book and, more generally, fiscal policy, please go to https://www.youtube.com/watch?v=tdo0huuHx-I
For more information about the book and Kleinbard's scholarship, please visit: http://www.edwardkleinbard.com/
Books
Federal Income Taxation, 17th ed. (2017) (Coauthor with Joseph Bankman, Daniel Shaviro and Kirk Stark).
We Are Better Than This: How Government Should Spend Our Money (Oxford Univ. Press, 2014)
Articles and Book Chapters
"Capital Taxation in An Age of Inequality," 90 Southern California Law Review 593 (2017). - (SSRN) - (PDF)
"The Trojan Horse of Corporate Integration," 152 Tax Notes 957 (2016) - (SSRN)
"U.S. Corporate Income Tax Reform and its Spillovers" (with Kimberly Clausing and Thornton Matheson), IMF Working Paper No. 16/127 (July 2016) - (PDF)
"Stateless Income And Its Remedies," a chapter in Global Tax Fairness (Thomas Pogge and Krishen Mehta, eds.). Oxford University Press (2016).
"Competitiveness Has Nothing to Do With It," 144 Tax Notes 1055 (2014). - (SSRN)
"Corporate Tax Reform, Business Tax Reform, or Capital Income Tax Reform?" 18 Chapman Law Review 1 (Fall 2014). - (Hein)
In Praise of the Tax Policy Center's Microsimulation Model: A Comment on "Curbing Tax Expenditures," in Pathways to Fiscal Reform in the United States (John W. Diamond and George R. Zodrow, eds., 273-282). MIT Press (2014).
"Through a Latte, Darkly: Starbucks' Stateless Income Planning," 139 Tax Notes 1515 (2013). - (SSRN)
"Corporate Capital and Labor Stuffing in the New Tax Rate Environment" (Mar. 26, 2013). - (SSRN)
"Why Tax Revenues Must Rise" (Feb. 14, 2013). - (SSRN)
"3 Cheers for Dave Champ," 138 Tax Notes 619 (2013).
"Stateless Income's Challenge to Tax Policy, Part 2," 136 Tax Notes 1431 (2012). - (SSRN)
"Paul Ryan's Roadmap to Inequality," 136 Tax Notes 1195 (2012). - (SSRN)
"The Better Base Case," 135 Tax Notes 1237 (2012) (with Joseph Rosenberg). - (SSRN)
"The Lessons of Stateless Income," 65 Tax Law Review 99 (2011). - (SSRN)
"Stateless Income," 11 Florida Tax Review 699 (2011). - (SSRN)
"The Role of Tax Reform in Deficit Reduction," 133 Tax Notes 1105 (2011). - (SSRN)
"Herman Cain's 9-9-9 Plan," 133 Tax Notes 469 (2011). - (SSRN)
"Stateless Income's Challenge to Tax Policy," 132 Tax Notes 1021 (2011). - (SSRN)
"Constitutional Kreplach," 128 Tax Notes 755 (2010). - (SSRN)
"Tax Expenditure Framework Legislation," 63 National Tax Journal 353 (June 2010). - (SSRN)
"An American Dual Income Tax: Nordic Precedents," 5 Northwestern Journal of Law and Social Policy 41 (2010). - (SSRN)
"The Congress Within a Congress: How Tax Expenditures Distort Our Budget and Our Political Process," 36 Ohio Northern University Law Review 1 (2010) (publication version of the Fourteenth Annual Woodworth Lecture, delivered in Washington, DC). - (SSRN)
"Where Can We Stand to Gain Perspective?, Toward Tax Reform: Recommendations for President Obama's Task Force," Tax Analysts (2009). - (PDF)
"Systematic Underinvestment in Straddle Rules," 125 Tax Notes 1301 (December 21, 2009) (a compilation of invited essays, "Examining the Straddle Rules After 25 Years").
"A Revenue Estimate Case Study: The Repatriation Holiday Revisited," 120 Tax Notes 1191 (2008) (with Patrick Driessen).
"Rethinking Tax Expenditures," an address to the Chicago-Kent College of Law Federal Tax Institute (2008). - (www)
"Rehabilitating the Business Income Tax," The Hamilton Project at the Brookings Institution (2007). - (www)
"Designing an Income Tax on Capital," a chapter in Taxing Capital Income, The Urban Institute Press (2007).
"Throw Territorial Taxation From the Train," 114 Tax Notes 547 (2007).
"A Holistic Approach to Business Tax Reform," 114 Tax Notes 90 (2007).
"Is It Time to Liquidate LIFO?" 113 Tax Notes 237 (2006) (with George A. Plesko and Corey M. Goodman).
"IRS Should Release Schedules M-3, Not Entire Corporate Tax Returns," 106 Tax Notes 1485 (2006) (with Peter Canellos).
"The Business Enterprise Income Tax: A Prospectus," 106 Tax Notes 97 (2005). - (SSRN)
"Proposed Treasury Regulatiaons Offer Dealers and Traders Safe Harbor for Section 475 Mark-to-Market Valuations," 19 Journal of Taxation and Regulation of Financial Institutions 5 (September/October 2005). - (SSRN)
"Taxing Convertible Debt: A Layman's Perspective," 56 S.M.U. Law Review 453 (2003). - (Hein)
"Competitive Convergence in the Financial Service Markets," 81 Taxes 225 (2003). - (Hein)
"Disclosing Book-Tax Differences," 96 Tax Notes 999 (2002) (with Peter C. Canellos).
"Contingent Interest Convertible Bonds and the Economic Accrual Regime," 95 Tax Notes 1949 (2002) (with Erika W. Nijenhuis and William L. McRae).
"A Short Course in Valuing Derivatives," 94 Tax Notes 380 (2002).
"Some Thoughts on Market Valuation of Derivatives," 91 Tax Notes 1173 (2001).
"The U.S. Taxation of Equity Derivative Instruments," Chapter 24 in The Handbook of Equity Derivatives. New York: John Wiley & Sons, Inc., 2000.
"Everything I Know About New Financial Products I Learned From DECS, Practicing Law Institute," Tax Law and Practice Course Handbook Series #457 (1999 and following years) (with Erika W. Nijenhuis).
"Corporate Tax Shelters and Corporate Tax Management," 51 The Tax Executive 231 (1999). - (Hein)
"The Role of Mark-to-Market Accounting in a Realization-Based Tax System," 75 Taxes 788 (1997) (with Thomas L. Evans). - (Hein)
"Final Tax Regulations Governing Contingent Payment Debt Obligations," 72 Tax Notes 499 (1996).
"Short Sales and Short Sale Principles in Contemporary Applications," Chapter 17 in N.Y.U. Fifty-Third Institute on Federal Taxation. New York: Matthew Bender, 1995 (with Erika W. Nijenhuis).
"Risky and Riskless Positions in Securities," 71 Taxes 12 (1993).
"Equity Derivative Products: Financial Innovation's Newest Challenge to the Tax System," 69 Texas Law Review 6 (1991). - (Hein)
"Beyond Good and Evil Debt (And Debt Hedges): A Cost of Capital Allowance System," 67 Taxes 12 (1989). - (Hein)
"Business Hedges After Arkansas Best," 43 Tax Law Review 393 (1988) (with Suzanne F. Greenberg). - (Hein)
"The Miracle of Compound Interest: Interest Deferral and Discount After 1982," 38 Tax Law Review 4 (1983) (with Peter C. Canellos). - (Hein)
Testimony
U.S. Congress. House Committee on Ways and Means. International Tax Reform Begins at Home. Hearings, 114 Cong., 2d sess. February 24, 2016. - (PDF)
FACULTY IN THE NEWS
Los Angeles Sentinel
February 22, 2018
Re: Jody David Armour
Jody Armour was quoted about the need to reduce gun violence overall, not just in mass shooting scenarios. "A lot of times, it is members of the Black community, truly disadvantaged Blacks, turning guns on one another and squeezing the trigger," Armour said. "If you want to reduce that rate of violence, focus on the social inequalities."
RECENT SCHOLARSHIP
Ariela Gross
December, 2017
"Becoming Black, Becoming Free: Law, Race, Slavery and Freedom in the Americas" (with Alejandro de la Fuente), Cambridge University Press (forthcoming Fall 2019).
Michael Chasalow
December, 2017
Michael Chasalow moderated a panel discussion on "What You Need to Know about the Exploding L.A. Technology Sector," USC Gould Institute for Corporate Counsel, Los Angeles, CA.
Gillian Hadfield
December, 2017
Gillian Hadfield's paper, "Privatizing Law: Is Rule of Law an Equilibrium Without Private Ordering?," was recently listed on SSRN's Top Ten download list for the Law & Economics eJournal.