Faculty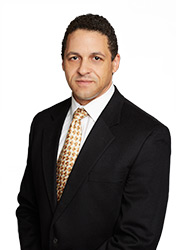 Stephen Rich is a Professor of Law at the USC's Gould School of Law ("USC Gould"), where he teaches courses in employment discrimination law, constitutional equality law, and civil procedure.
Rich is an expert in the field of antidiscrimination law. His work blends statutory and constitutional analysis with contemporary research in sociology and social psychology in order to analyze familiar problems concerning social injustice, affirmative action, and the practical limitations of antidiscrimination law's enforcement from new perspectives. His representative articles in this field include Inferred Classifications, 99 Virginia Law Review 1525 (2013), in which he warns that the Supreme Court's practice of inferring racial classifications from the form and practical effect of governmental action threatens race neutral affirmative action programs designed to promote racial equality regardless whether the government acted with a discriminatory purpose, and Against Prejudice, 80 George Washington Law Review 1 (2011), in which he argues that social psychology's concept of a "new" prejudice, which rejects the simple equation of prejudice with malice, offers insufficient guidance when antidiscrimination law confronts forms of discrimination that masquerade as legal compliance and cannot be attributed to prejudicial motivations. In more recent publications, Rich has addressed fundamental issues of statutory interpretation. For example, he has criticized the Supreme Court's use of textualist methods to disrupt continuity between its past and present decisions in the field of employment discrimination law, and he has argued against the convergence of constitutional and statutory legal standards in order to permit the government to explore different approaches to addressing the persistent problem of racial inequality. In his most recent work, forthcoming in Southern California Law Review, Rich argues that the law's current understanding of diversity in education and employment underserves the goal of equal opportunity, and he proposes a new vision of diversity that would apply beyond the limited context of traditional affirmative action programs.
Prior to joining the faculty of USC Gould, Rich practiced law at Cleary Gottlieb Steen & Hamilton LLP, where he litigated a variety of high profile matters concerning topics such as freedom of speech, securities fraud, trademark infringement, and the right to counsel. Rich entered private practice after having served as a judicial law clerk to the Honorable Betty B. Fletcher on the United States Court of Appeals for the Ninth Circuit. He received his JD from Yale Law School, and he received his MA and BA in African American Studies concurrently from Yale University. He won prizes for his senior essay and master's thesis, both of which concentrated on issues of intellectual history and literary theory, and he was awarded the A. Bartlett Giammati Fellowship by the university. In between his two stays at Yale, Rich won a Fullbright Scholarship to study music in Fes, Morocco. Returning to the United States reaffirmed his commitment to issues of social justice and equality. While at Yale Law School, Rich was an Olin Fellow and after graduation performed research on issues of race and political equality as a recipient of Harvard Law School's Reginald Lewis Fellowship. At USC Gould, Rich has continued to pursue his interests in educational and workplace diversity, political and social equality, and procedural fairness. He was the law school's first junior faculty member to receive the prestigious William A Rutter Distinguished Teaching Award.
Articles and Book Chapters
FACULTY IN THE NEWS
The Washington Post
December 9, 2017
Re: Edward Kleinbard
Edward Kleinbard was quoted on why stating that the congressional tax reforms bill will result in a middle-class tax cut is false. "That's delusional or dishonest to say. It's factually untrue," Kleinbard said. He added, "The only group you can point to that wins year after year and wins in very large magnitude is the very highest incomes."
RECENT SCHOLARSHIP
Ariela Gross
October, 2017
"Does Colorblind Conservative Constitutionalism Have A Grassroots History?" Law and Social Inquiry.
George Lefcoe
October, 2017
George Lefcoe attained SSRN's designation as being in the top 10% of Authors on SSRN by all-time downloads.
Edward Kleinbard
October, 2017
Edward Kleinbard (with Kimberly Clausing) wrote an op-ed, "Trump's Economists Say a Corporate Tax Cut will Raise Wages by $4,000. It Doesn't Add Up: The UK Cut Corporate Rates and Wages Still Dropped," posted to Vox - The Big Idea on October 20, 2017.