Self-guided Walking Tour
Welcome to USC Gould School of Law! We are excited that you stopped by for a glimpse of what makes this such a dynamic place to study law.
Choosing a law school can be daunting, and one of the most important decisions you will ever make. Finding the right fit should be your goal. Sitting in on a class, taking a tour with one of our Admissions Ambassadors, attending an information session, and speaking with current students and staff are invaluable ways to make the best decision.
A map of each floor is available for your reference.
First Level
As you exit the Office of Admissions and turn right, you will find the Student Services Office, located in Room 104, where you will find:
Dean of Students
Externships
Financial Aid
First Generation Professionals
Office of Public Service
Peer Mentors
Registrar
Student Organizations
Study Abroad
Externships offer an unparalleled environment for real-world learning in judicial chambers, nonprofit and public interest organizations, government agencies and in-house counsels' offices. Students benefit from hands-on opportunities to strengthen emerging skills — research, legal writing and interviewing witnesses — while gaining new ones, such as contributing research or draft language for legislation or regulations. You must complete your first year of studies before becoming eligible for externships, which are available during the fall, spring or summer. "SC in DC" offers a unique opportunity to learn the ins and outs of creating federal statues, regulations and policies in Washington, D.C., during either the summer or academic year.
First Generation Professionals supports those who are the first in their families to earn a college degree, as well as students from working-class or lower-income backgrounds. The group is designed to enhance academic success, professional growth and personal development by offering:
Cross-Graduate School Networking
Peer Mentorship
Seminar Series
Suit Stipend
Trojan Alumni Networking
The Office of Public Service supports all student-driven service projects and coordinates public-service externships. Each year, approximately 100 USC Gould JD students earn academic credit and develop advocacy skills while working for public interest organizations, government agencies and judges. Explore the many ways you can get involved in public interest projects while studying at USC Gould.
Peer Mentors facilitate the transition of incoming law students through guided interactions with second-year students. Peer Mentors help you feel welcome, connect you with your new environment, and guide you toward social and developmental resources so you can become an integral part of the law school community. Peer Mentors are available to support first-year students throughout the academic year.
Student Organizations at USC Gould reflect the diversity, altruism and leadership of our student body, with numerous opportunities for extracurricular learning, networking, community service and socializing. All students become members of the Student Bar Association, ensuring that your voices are heard by USC Gould administrators and helping new enrollees adjust to the law school experience. Students are encouraged to form new organizations and plan social or academic events. Please check our website for a complete listing.
Study Abroad allows JD students to spend one semester abroad in the fall or spring of the second year, or the fall of the third year at:
Bocconi University (Milan, Italy)
Bond University (Queensland, Australia)
Fundação Gentúlio Vargas University (São Paulo, Brazil)
University of Hong Kong
University of Jean Moulin Lyon (Lyon, France)
The application process includes an interview with a faculty member. Most students who want to participate and who meet admissions criteria secure a study-abroad placement. Information sessions are held each fall for current JD students. You may participate in study-abroad programs offered by other ABA-accredited law schools if approved by the USC Gould dean of students.
As you continue down the hallway, you will arrive at the Graduate and International Programs Office in Room 105 on the First Level and in Room 16 on the Lower Level. Within these offices, you will find information on our non-JD degrees:
Alternative Dispute Resolution Certificate
Compliance Law Certificate
Master of Comparative Law
Master of Dispute Resolution
Master of Laws in Alternative Dispute Resolution
Online Business Law Certificate
Online Entertainment Law and Industry Certificate
Online Master of Laws
Online Master of Studies in Law
Summer Law and English
Two-Year Extended Master of Laws
Visiting International Program for Lawyers
These are ideal for international students with a first degree in law who are pursuing a further degree in the United States. Among the offerings:
Two-Year Extended Master of Laws
Master of Comparative Law
Master of Laws
Master of Studies in Law
Specialized online LLM
Standalone online certificates in Business Law, Entertainment Law and Industry, and Compliance
Summer Law and English
Visiting International Program for Lawyers
In addition, this office administers the Alternative Dispute Resolution degree and certificate programs, including:
Alternative Dispute Resolution Certificate
Master of Dispute Resolution
Master of Laws in Alternative Dispute Resolution
These degrees are designed for domestic and international lawyers, as well as non-lawyers.
In conjunction with the International Law & Relations organization, JD students and international LLM students gather each semester for the JD and LLM Partnership, which highlights the intersection of culture and law at USC Gould to promote a sense of community among our diverse student body. JD and LLM students are divided into partnerships based on common interests, and become a support network throughout the school year.
USC Global Initiatives
USC is a truly global university and one of the nation's leaders in educating international students.
USC ranks among the top U.S. schools for international students, and has a worldwide alumni network of more than 363,533, many in leadership positions around the globe.
USC has offices in Brazil, China, Hong Kong, India, Korea, Mexico and Taiwan.
USC hosts global conferences worldwide, the most recent in Tokyo in fall 2017.
USC prepares students to thrive in the global marketplace.
As you head north, on your right you will pass the Ackerman Courtroom, a state-of-the-art classroom/courtroom that hosts moot court competitions, lectures, lunch seminars with legal, government and industry experts, and other live and online events. Justices from the California Court of Appeals listen to oral arguments here each spring. After passing the Ackerman Courtroom, you will turn right at the hallway. Continue straight ahead. At the end of the hallway, you will find the Career Services Office, in Room 110, where orientation sessions and one-on-one career counseling are offered. In addition, the CSO offers:
Career-skills workshops focusing on résumé/cover letter writing, effective interviewing techniques and professionalism skills
Fall and spring on-campus interviews; Bay Area, Chicago, New York, and Washington, D.C., job fairs; and other specialty job fairs featuring public- and private-sector employers
Judicial clerkship advising and support
Mock job interviews with alumni
Networking events showcasing law firms of all sizes, judicial clerkships and JD advantage careers
Online job postings, ongoing career coaching and strategy appointments, and myriad career resources accessible 24/7
Panel discussions and guest speakers on practice and geography-specific topics and legal markets
As you return to the east lobby, continue straight ahead (west) down the hallway. When you arrive at the west lobby, you will see a set of stairs leading down on the right; this will take you to the Lower Level.
When you reach the bottom of the stairs and turn left, you will pass some classrooms, another extension of the Graduate and International Programs Office (Room 16), and a few student organization offices, such as the Student Bar Association and the Public Interest Law Foundation. Continue down the hallway, making a slight right, and you will see the Law School Café on your left and Room 7 on your right. Three large classrooms here are where most first-year JD students take classes: Rooms 1, 3 and 7. Continue past the café, keeping to the right, and you will arrive at the elevator (across from Room 2); take it to the second floor. When you step off the elevator, you will be in the Gabriel and Matilda Barnett Information Technology Center and the Asa V. Call Law Library.
Second Level
The Law Library is open to all USC students, faculty, staff and alumni, as well as members of the legal community.
As you walk down the hallway, you will pass the Lincoln Room on your left. The Lincoln Room collection houses rare books, family portraits, campaign memorabilia and other artifacts honoring one of the nation's most revered presidents, a gift from the International Academy of Trial Lawyers Foundation. The space also serves as a casual reading room with many popular magazines and newspapers. Take a look at the Los Angeles Times Lincoln Reading Room article.
Continue down the hallway to the entrance of the Law Library. The service counter will be on your right once you enter the library. Here, library staff check out books, study-room keys and reserved materials, and can answer questions about the library or research needs. You will see some computers on the left, where you can reserve a study room online or quickly check your email.
Continuing into the library, the Darling Reading Room, through the double doors is a light-filled space for studying. Heading down the hallway to your right, notice one of the library's classrooms, where librarians teach legal research. Farther down the hallway, you will pass the Student Computer Lab on your right. You can either continue straight ahead into another study area, or turn right and follow the hallway to the end, where you will turn right again. You will pass two study rooms outfitted with multimedia equipment. Farther down the hallway, the Campbell Lounge, on your right, is designated for law students only and is a wonderful place to relax. Straight ahead is the entrance to the Lincoln Room. At the juncture of the hallway, turn right; this will bring you past the Campbell Lounge to the stairwell and elevator.
Upstairs, as you exit the stairwell, are several more study rooms to the left. If you head right into the main area of the third floor, another reading room is designated for quiet study. This space has great views of Exposition Park, featuring museums, the L.A. Coliseum and a beautiful rose garden.
Back downstairs, make a left then a second left to return to the main hallway of the library leading to an exit. See a map of the Law Library's floor plan at the end of the tour, or download a map here.
Continuing out of the Law Library, you may either take the stairs to the first floor or return to the elevator and take it to the first floor. The Law School has two additional levels.
Third Level
Dean's Suite (Room 300)
Law Reviews (Room 330)
Legal Clinics (Room 326)
Law Reviews (Room 330)
Law Review is open to students beginning in the second year. Approximately 35 positions are available, and staff members are selected based on first-year academic achievement as well as their performance in the Write-On writing competition held during the first two weeks after the academic year ends. The law school hosts three journals:
Southern California Law Review, established in 1927, is an independent and autonomous entity, with all policy, procedures and content determined by the student-run editorial board. The six annual issues feature articles by outside contributors and notes written by Law Review staff members. Learn more at lawreview.usc.edu.
Southern California Interdisciplinary Law Journal (ILJ) assesses contemporary society, conceives new and unique legal methodology, and seeks solutions to contemporary societal problems, providing a framework upon which the future of the law may grow. Each year, ILJ publishes three issues, with articles by outside contributors and notes by ILJ staff members.
Southern California Review of Law & Social Justice (RLSJ) values the law as an instrument for positive social change, and encourages equal participation of all people in the law, politics and society. It solicits, edits and publishes three yearly issues.
Legal Clinics
Our legal clinics, which are open to JD students in the second year and beyond, are in-depth and supportive offerings that provide impactful experiential learning. Our six clinics give students significant experience working directly with real clients under the supervision of seasoned practitioners who are leaders in their fields. The clinics, located in Room 326 on the third floor, are:
Fourth Level
Our more than 50 dedicated, full-time faculty and more than 100 adjuncts and lecturers support, challenge and guide you as teachers and mentors for new generations of lawyers, public servants and leaders. Their interdisciplinary legal expertise includes administrative law, constitutional law, corporate law, intellectual property law, international law, tax law, and law and race, plus the intersections of law and economics, law and history, law and philosophy, law and politics, and law and psychology. Our faculty members are renowned for their significant contributions to the profession and the public. Recent faculty publications include:
Professor Gillian Hadfield, Rules for a Flat World: Why Humans Invented Law and How to Reinvent It for a Complex Global Economy, Oxford University Press, October 2016.
Professor Edward Kleinbard, We Are Better Than This: How Government Should Spend Our Money, Oxford University Press, October 2014.
Professor Daria Roithmayr, Reproducing Racism: How Everyday Choices Lock in White Advantage, NYU Press, January 2014.
We are glad you decided to take the Self-Guided Walking Tour. Whether you live locally or are just visiting, we encourage you to schedule a class visit or information session (offered in the fall). If we can answer any questions, please stop by the office before leaving, contact us at 213-740-2523 or admissions@law.usc.edu for JD admissions, or 213-821-5916 or llm@law.usc.edu for Graduate & International Programs admission.
Recent News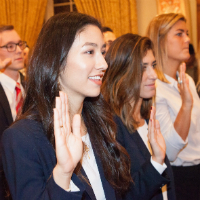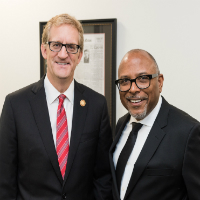 Start with "Yes"
November 27, 2017
During "Conversation with the Dean," alumnus Paul Richardson (JD1990) shares career insights