News
The Turn Around Team
Wednesday, Feb 19, 2014
Alum shares story of MLB ownership
Story by Kalyn Norwood
Photos by Maria Iacobo
The Sports Law Society gave Gould students the opportunity to learn the ins and outs of what it's like to own and operate a professional franchise during a recent "Lunch with an MLB Owner" event. Jeff Smulyan '72 and his business partner, Gary Kaseff, who is also a lawyer, shared details of their experience managing Major League Baseball's (MLB) Seattle Mariners. Smulyan and Kaseff have been life-long friends; Smulyan is a double Trojan and Kaseff is a double Bruin.
Before embarking on owning a professional baseball team, Smulyan had a successful career in the radio industry. He formed and became principal shareholder of Emmis Communications, a radio, television and magazine publishing company with operations in nine U.S. markets. He also developed the first all sports radio station in New York.
Smulyan '72 and Kaseff speak on their MLB experience.
Through this experience he connected with people in and surrounded himself with those who reinvented the marketing of sports. Because he and Kaseff quickly became known as turn around people, they were told "if you want a turn around statement, buy the Mariners."
In response, Smulyan and Kaseff went to MLB and led the group that purchased the Seattle Mariners in 1989.
"MLB looks for people who will be good stewards of the community," Smulyan said.
As president of the team, Kaseff was involved in politics, TV transactions, radio transactions, sales and corporate sponsorships. When asked how to become president of a professional sports team, he said "study very hard to become a very competent lawyer and convince your best friend to buy it."
Joking aside, two mistakes Smulyan believes they made was not assessing the quality of the baseball team and not having many people who were loyal to them.
"What you always want to do is find out and identify what you don't know, then find people that do," Smulyan said.
Although they said they were better prepared to run a baseball team than they originally thought, they were surprised by the indifference of the community towards their own home team and inability to get a cable deal in Seattle media market.
"Baseball was more of a political sociological experiment for us than it was about the economics of baseball," Smulyan said. "It was a tough community because [the Mariners] were really unloved since their founding."
They had a difficult time getting people in the city to attend the games and said the majority of the crowd was senior citizens. To improve attendance, they began having singles nights and even built an advertising campaign around the idea that the Mariners were not a winning baseball team. Through some of these efforts, they were able to change the perception, increased annual attendance by 1 million and had the first winning season in 14 years.
After three years owning the team, they sold it to a group of investors.
Kaseff said his time in law school helped him overcome many of the problems they faced.
"In law school, I learned to think, reason and analyze things and that was a great deal of help in running a baseball team," Kaseff said. "Virtually every situation involved analyzing and spotting issues."
Smulyan remains the CEO of Emmis Communications and is widely recognized as one of the most visionary leaders in the radio industry.
While they have both moved on from managing the Mariners, they said it was a great experience overall that taught them how to take what they were given and turn it around.
"[To succeed in such circumstances], you have to roll up your sleeves and do everything," Smulyan said.
Recent News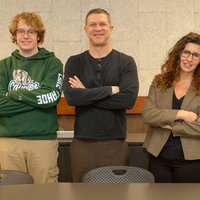 Showing Up for Veterans
November 10, 2017
Gould students and alumni team up to offer legal assistance to former military personnel