News
Newest World Court Judge Speaks at USC Law
Wednesday, Nov 9, 2011
Donoghue shared thoughts, and experiences on the ICJ

-By Gilien Silsby
Left To Right: Kate Doty, Elizabeth Andersen, Joan Donoghue, Robert Rasmussen & Hannah Garry
From the time she was a law student at UC Berkeley, Joan Donoghue has been fascinated by international law, and how courts across the globe approach and apply the rule of law.
Today, as the newest U.S. judge on the International Court of Justice (ICJ) in The Hague, Donoghue is charged with rendering some of the world's most difficult and interesting decisions.
At a recent noontime discussion with about 150 USC Law students, faculty and guests, Donoghue shared her thoughts, and experiences on the ICJ – also known as the World Court - and described several upcoming cases on the docket. Elizabeth Andersen, executive director of the American Society of International Law (ASIL), also spoke briefly at the event about the activities of ASIL. The event was sponsored by USC Law's International Human Rights Clinic, Clerkship Committee and Board of Councilors Clerkship Committee.
"The World Court is part of an international legal system that is always evolving and in motion," Donoghue said. "People often look at the World Court through a domestic lens… Although we may look like U.S. judges , our Court is quite different. In particular, our court only has jurisdiction over a case if the parties have consented to the Court's jurisdiction."
Donoghue was elected to the ICJ last year after serving as principal deputy legal adviser in the U.S. State Department. She has also served as a deputy general counsel of the U.S. Department of the Treasury.While serving at the State Department, she was recognized for her service with both the Presidential Meritorious Honor Award and the Distinguished Honor Award, the highest award given by the U.S. Secretary of State.
Following her appointment to the World Court, Secretary of State Hillary Clinton said Donoghue is "judicious, fair, an extraordinary international legal counsel, and an excellent choice for the Court."
Dean Robert K. Rasmussen said it is an honor to have Donoghue visit USC Law. "The ICJ plays a pivotal role in the international legal system," noted Rasmussen. "Judge Donoghue's distinguished career as one of our nation's leading international lawyers provides her with the background and expertise to be a leader on the World Court. Our students had the opportunity to learn from a judge who is going to be at the forefront of developing international law in the coming decade."
At the USC Law talk, Donoghue explained that many decisions rendered by the World Court address issues surrounding its jurisdiction. For example, the country of Georgia recently filed a case against Russia alleging racial discrimination. However, the ICJ judges upheld Russia's argument that the Court did not have jurisdiction to examine the Georgian complaint because the two sides had not tried to resolve the dispute through negotiations. Donoghue was among several judges who dissented from this conclusion.
She noted that compliance with the World Court's decisions carry about 70 to 80 percent, which is fairly high given that "there is no world sheriff." "The international docket has gotten broader and more varied and busier in recent years. That's great for me because it makes the job interesting," Donoghue said.
On the Court's docket this year are cases involving disputes between countries around the globe that range from issues surrounding border disputes to diplomatic relations between States One case currently before the Court involves a claim by Australia against Japan for breaching international law through its whaling activities. The Court is also hearing a case filed by Ecuador accusing Colombia of aerial spraying of toxic herbicides at locations near and across the Ecuadorian border.
From its inception, the idea of a World Court has been somewhat varied and controversial, with some believing states would go to World Court rather than go to war, Donoghue said. "There were countries who thought we would achieve that very lofty goal; there were others who thought that a world court would be ineffective, or thought that the United States should not relinquish sovereignty to a group of judges from other countries," she said. "Those varying tensions and perspectives carry forth today."
After sitting on the ICJ for a year, Donoghue said she is hopeful that the World Court will make a broad impact. "Of course, the utopian idea that you have one World Court, and this will lead to world peace, hasn't proven to be correct," she said. "However, as an international lawyer, I consider it my responsibility to have as many options available other than killing each other. The more places we have for people to resolve things peacefully, the better it is. That's the way I look at my job."
Professor Hannah Garry, director of USC Law's International Human Rights Clinic, said USC Law "is deeply honored to hear from Judge Donoghue and impressed by her expertise and experience in international law. By working to uphold the rule of law and resolve disputes among States, she is contributing to a more just and peaceful world."
Recent News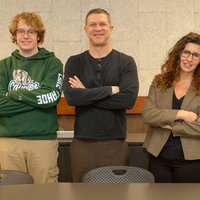 Showing Up for Veterans
November 10, 2017
Gould students and alumni team up to offer legal assistance to former military personnel