News
Breaking into the Entertainment Industry
Thursday, Oct 27, 2011
Story and photos by James Bradicich
There is more than one road that leads to Hollywood.

Alex Ankeles '96, vice president of production at Andrew Panay, told students at the Entertainment Law Society event that even though a law degree is not necessary to get into the entertainment business, it helps students cultivate confidence and legal aptitude.

"A law degree has not been essential to me, but it has helped. I can now read my own contracts," Ankeles said. "It gives you a syllogistic way of thinking that helps when making a script deal. I'm still glad I did it."

However, Ankeles cautioned students of the difficulties that often arise when trying to break into the industry.

"Entertainment law is very tough to get into. Very few do it and you have to connect yourself to the firms. It depends on how impressive your resume is," Ankeles said.
Alex Ankeles '96, second from left, with ELS Board
members Michael Campbell '13, Michael Hartman '13
and Jennifer Westhoff '13.

Upon graduation from USC, Ankeles joined Stroock & Stroock & Lavan LLP, where he found himself questioning if corporate law was his true calling. He considered his options and ultimately decided he wanted to break into the entertainment business.

Ankeles began temping at William Morris Endeavor [then William Morris] in the famed mailroom, where according to him, his colleagues did not care that he had a law degree.

"That was a very humbling experience," Ankeles said.

From the mailroom, his career blossomed. Once into producing, Ankeles served as a development executive at Mosaic Media Group and MGM Studios and worked on Talladega Nights, She's Out of My League and Season of the Witch.

He advised the students on how to effectively prep themselves for a career in the entertainment business.

"You need to get out there and make yourself part of the Hollywood system. You should be nice to everybody because they will eventually become someone prominent," Ankeles said.

Ankeles elaborated on some entertainment industry basics.

"The first rule of producing is you never use your own money," Ankeles said. "Basically, the studios are the ones with the checkbooks and pay the writers. Producers are the middle men between the studios and the writers."

Ankeles said that with the advancement of technology, major studios are trying to monetize post-theatrical runs by capitalizing off of ancillary windows as well as new forms of digital technology. Even though DVD sales are down, there is still money to be made.

In his most recent accomplishments, Ankeles sold his sci-fi spec script Hyperdrive to Paramount Pictures. The story revolves around a cop who joins forces with a sci-fi author to track down a mysterious murder witness. The story plays out in the form of an intergalactic battle on Earth.
Recent News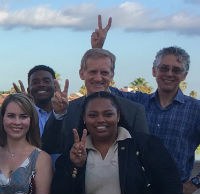 A Memorable 2017
December 20, 2017
With 2018 approaching, we look back at our exceptional year