News
A Firm-Nonprofit Partnership on Vet Suit
Thursday, Oct 27, 2011
Attorneys discuss collaboration on pro bono case
Attorneys from the ACLU of Southern California, Arnold & Porter and the Inner City Law Center discussed a suit they have filed on behalf of Los Angeles-area homeless veterans, illuminating for USC Law students the complexity of a case requiring the cooperation of a private firm and nonprofit organizations.
From left: David Sapp, John Ulin, Melissa Tyner,
James Finsten '04, Amos Hartston
The Oct. 24 event, "Partnering and Public Service: How Private Law and Public Interest Law Firms Work Together to Bring Change," helped kick off Pro Bono Week activities at USC Law. It was hosted by the Public Interest Law Foundation and the offices of Public Service and Career Services.
David Sapp, staff attorney with the ACLU-Southern California, said the group has filed suit against the Department of Veterans Affairs and the VA Greater Los Angeles Healthcare System on behalf of 10 homeless veterans suffering from disabilities. The case focuses on what they claim is misuse of the VA campus in West Los Angeles, deeded to the federal government in 1888 for the express purpose of housing disabled veterans, beginning with those injured during the Civil War.
Today, that campus – 387 acres with an estimated value of $4 billion – leases portions of the property to private businesses while turning away severely disabled veterans, some of whom camp out on the property. Further, the VA will not disclose how they determine lease rates, how much money they earn from the businesses or what they're doing with the money.
The plaintiffs are seeking class-action status.
Sapp said the ACLU learned of the issues at the VA West Los Angeles campus while they were defending a veteran's First Amendment right to protest the facility on its grounds.
"When we defend someone's speech, usually we protect their rights without regard for what they're actually saying," Sapp said. "But then we looked at what he was saying, and the issues intersected with some issues we had been looking at over a period of years, including homeless rights issues and disability discrimination."
John Ulin, a partner at Arnold & Porter, said that such pro bono impact litigation addresses ideas whose time has come.
"The Obama administration has started talking more about the issue of homeless veterans," Ulin said. "With over 100,000 veterans on the streets, and many more veterans set to return home, we need to address this problem now. Why is this veterans campus being used as a dog park, as Jackie Robinson Stadium, as swimming facilities for private school kids, and not being used to serve veterans in the ways that they need?"
James Finsten '04, an associate at Arnold & Porter, said this case represents his first opportunity to work on impact litigation.
"Arnold & Porter encourages us to take ownership of our pro bono time," he said. "Until now, most of what I've done is individual benefits rights. I grabbed this opportunity to work on a big case."
Amos Hartston, chief counsel and director of legal services for Inner City Law Center, a public interest law firm that focuses on veterans and housing issues, spent 14 years at a private firm before taking his current position. He said impact litigation needs to be a collaboration between not-for-profit legal services and private law firms.
"This model really works," he said. "One reason is that the legal services are well-suited to identifying a need or identifying what the issues are in a particular case. Private firms are really well-suited to litigating cases, bringing in expertise, having a deep bench, and focusing on certain issues where legal services may not have the ability or manpower to bring certain types of lawsuits."
Sapp emphasized that the current case couldn't be done without partners in private firms.
"I have six active cases that are of this scale," he said. "Without this collaboration, I'd be buried under."
All of the attorneys emphasized the benefits of participating in impact litigation.
"The opportunity to work on impact litigation is something you should seize," said Melissa Tyner, a staff attorney at Inner City Law Center. "As a public interest attorney, your focus sometimes can be narrow. You're going to be doing work with veterans benefits, homeless people with disabilities, environmental justice work. But being able to be a part of huge class-action litigation on the federal level has been a great source of professional growth."
Ulin said such cases benefit his practice at Arnold & Porter, too.
"I have experience I can now bring to bear with my paying clients, and with my own professional development," he said.

Recent News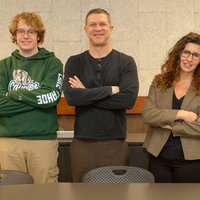 Showing Up for Veterans
November 10, 2017
Gould students and alumni team up to offer legal assistance to former military personnel