News
Student Organization Fair
Monday, Sep 19, 2011
Pursuing interests outside the classroom
As classes let out for lunch one day last week, over 100 law students gathered at one destination, Crocker Plaza, where 1Ls, 2Ls, and 3Ls alike found involvement opportunities outside the classroom.
At the annual Law Student Organization Fair, students strolled through the cardinal and gold decorated plaza lined with information booths for the student run organizations. Each group's leaders, armed with flyers and free snacks, eagerly talked with students about their experiences and explained how to get involved. Students were able to peruse the thirty-plus booths and sign up for clubs reflecting their interests.
USC Law Student Organization Fair 2011
"The Fair did a good job of giving students a taste of everything," said Katie McKitterick '14. "I think that every law student can find something that inspires them."
Whether students are looking for career networking, mentor programs, volunteer work, or cultural communities, there's truly something for everyone at USC.

Some of the organizations present included the Public Interest Law Foundation, Health Law and Bioethics Society, Christian Legal Society, Federalist Society, International Law and Relations Organization, and the USC Sports Law Society.
The
Student Bar Association
(SBA) claimed one of the central booths at the Fair. This student government group is composed of seventeen elected members and allows students to run for elected positions and represent their section as a 1L.
Natasha Chua Tan '12, Student Bar Association president, said she loves "the variety of students I get to work with."
For students hoping to connect with other law students, USC's co-ed professional law fraternity,
Phi Alpha Delta
(PAD) offers social events, networking opportunities, and an annual ski trip to Mammoth Mountain. Jamie Rinehart '13, spoke with a group of 1Ls about her favorite group ski trip and the benefits of PAD's social activities and network.
Iraqi Refugee Assistance Project members at
the Student Organization Fair
USC also has a variety of opportunities for students to combine their legal education with volunteer work. In
Street Law
, students visit local middle schools and high schools to teach students about the legal system and encourage them to pursue higher education. The club hosts a bi-annual Mentor Day where young students attend a mock law class at USC. Throughout the year, club members create lesson plans to bring to the students' classrooms.
"We bring mock contract negotiations, which the kids love," says Marysa Lin '13 of Street Law.
Given USC's strong entertainment law program, it is not surprising that the largest student organization, the
Entertainment Law Society
, drew a big crowd. Students attend speaker events with industry professionals such as music attorney Don Passman and Phillip Muhl, Executive Vice President of Legal Affairs at The Walt Disney Company, in addition to networking opportunities with alumni. There are also opportunities for students to also take classes at USC's School of Cinematic Arts.
For female law students, the
Women's Law Association
offers networking, mentoring, and advice for women looking to balance careers with family life. Members Cambria Odle '13, and June Yang '13 agree that the organization has been helpful by connecting them to relatable women in their field.
The fair highlighted the diversity, friendliness, and passion of USC's law students. It gave the school's newest class of students a chance to connect and think about how they want to pursue their interests during the next three years.
As the event wound down, Chua Tan offered some advice to USC 1Ls: "take the time to find a passion outside the classroom. You'll be better for it."
Recent News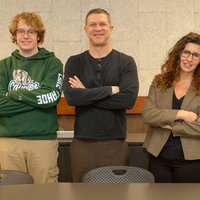 Showing Up for Veterans
November 10, 2017
Gould students and alumni team up to offer legal assistance to former military personnel