News
Networking Now
Monday, Aug 1, 2011
Entertainment Law Society Unites Alumni & Students
If you want to work in entertainment law, your career begins long before you leave law school.

That's the resolve of Jamie Hughes '12 and Jennifer Westhoff '13, past and current presidents of USC Law's Entertainment Law Society (ELS), a student organization that has made its mark for its heavyweight guest speakers and collaborations with students at the USC School of Cinematic Arts.
Jamie Hughes '12 and Jennifer Westhoff '13
When ELS brings to campus people like film producer Garry Lucchesi, president of Lakeshore Entertainment, and Schuyler Moore, a partner in the corporate entertainment department of Stroock, scores of students – as many as 80 – find themselves crowding the aisles of law school classrooms, eager to learn from top lawyers, financiers and deal-makers.

"Entertainment law may sound like a niche legal market, but it's not," Westhoff says. "It involves every kind of legal work you'd encounter elsewhere – you're just doing it for a particular subset of clients."
Peers Today, Partners Tomorrow

With Hughes at the helm last year, the society not only brought in top speakers but also formalized a partnership with the School of Cinematic Arts (SCA) Graduate Council, which represents graduate students at the nation's top film school. The idea of building relationships with their future colleagues and business partners has been embraced by students at both schools.

"The cinema school already puts on mixers, which are a great opportunity for students from law, cinema, business and even engineering to get together," says Hughes. "It's good to get the perspective of people who think differently from lawyers. The most beneficial part of the connection is to have people asking questions we wouldn't know to ask, and vice versa."

SCA Graduate Council President Stephen Gibler '12, who is studying film and television production, says Hughes and Westhoff have an ambitiousness that melds with what he and his peers are trying to achieve at the cinema school.

"Our goal, as always, is collaboration," Gibler says. "Our program is designed around the fact that one person cannot make the next masterpiece; it takes a team of people."

Gibler, who is focused on being a producer and writer, says partnering with the law school is a natural for film students.

"To develop relationships with our potential bosses, co-workers and representatives makes sense," he says. "It's like a rocket ship: you have the oxygen over here, and the hydrogen over here, which separately will burn, but you put them together and the rocket ship will take right off."
Assembling Top Talent

Crucial to both schools' efforts is a willingness and ability to reach out to accomplished alumni who can open doors and make introductions. Last year, ELS hosted a major networking event at Creative Artists Agency, which drew top-shelf talent from the ranks of USC Law alumni working in the entertainment industry.

John Schulman, former executive vice president and general counsel of Warner Bros., and director of USC Law's Entertainment Law Program, supports ELS's efforts as its faculty advisor. He has drawn upon his own formidable industry connections to bring to USC Law speakers who will instruct and inspire his students.

"Most of what the students have done, they've started, and I've just helped facilitate," Schulman says. "The goal is to increase awareness of the opportunities out there and to introduce them to more of the players in the entertainment world."

Schulman says his hope is for students to get a sense of the many jobs lawyers are needed for in Hollywood by meeting practitioners they wouldn't normally encounter in a classroom.

"It's much more difficult to get a job in 2011 than it was when I got out of law school," Schulman says. "There's more competition, not only from other law school graduates but also 'recent parolees' from law firms. The more people you can connect with now, the better off you're going to be."

Westhoff and Hughes aim to connect with more industry professionals when ELS sponsors its second trip to the Sundance Film Festival, held in Park City, Utah, in January. Nearly 40 law students signed up for the first trip, the purpose of which was to give law students an opportunity to experience the festival by going to screenings, meet and greets, and lectures.

"The nice thing about being so new is that we're not constrained by anything," Hughes says. "With Sundance, we were a group of kids who wanted to go see movies."

In addition to the next Sundance trip, Westhoff is planning events in conjunction with other law student organizations, such as the Sports Law Society, Intellectual Property and Technology Law Society and Art Law Society. Among the events will be a symposium on cloud music sourcing and file sharing.
Student-Driven Approach

Prof. Jack Lerner, director of the USC Intellectual Property and Technology Law Clinic, has contributed his own advice and expertise as someone whose work involves the entertainment industry and the media. He sees the Entertainment Law Society not just as a student group but a program that will become inextricably tied to the experience of being a law student at USC.
"At USC Law, we have great professors, a wide-ranging curriculum and some of the most dedicated alumni. But our students are absolutely just as important," he says. "They're what make the school – they're the lifeblood. It's only natural they would have a role not only in entertainment-related activities but also in shaping the curriculum of the Entertainment Law Program."
Regarding ELS's popularity, Lerner says people are fascinated by entertainment law and the grand questions of media in the digital age, which address the future of DVDs, books, newspapers and all other forms of media.
"It's a fascinating time, and entertainment law is at the center of these questions," he says.
Prof. Lerner credits the students for taking such a proactive role in their early careers.

"What Jamie and Jennifer have begun to do is build an amazing foundation that will help students with an interest in entertainment law do what all students need to do in this economy – be proactive, devote your time and energy to making yourself better, network with alumni and educate yourself," he says.
Prof. Schulman concurs.

"Connect with the people who can help find you a job, and if you can't find a job, find a way to practice," Schulman says. "I'm thrilled with the students' efforts to help themselves and each other."

Alumni and students interested in learning more about the Entertainment Law Society can e-mail Jennifer Westhoff at jenn.westhoff.2013@lawmail.usc.edu.

Recent News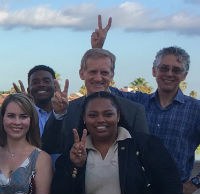 A Memorable 2017
December 20, 2017
With 2018 approaching, we look back at our exceptional year