News
Law students, local lawyers practice music together
Wednesday, Jul 27, 2011
All-lawyer chorus debuts July 30
-By Lori Craig
Neal Gauger
Three USC Law students will join prosecutors, defense lawyers and judges in making beautiful music together at the debut of Legal Voices, a 100-voice chorus of singing lawyers.
Neal Gauger '13, Cindy Organ '13 and Morgan Smith '13, who have all been singing since childhood, will be performing with the Legal Voices of the Los Angeles Lawyers Philharmonic at the Walt Disney Concert Hall at 7:30 pm on Saturday, July 30. It will be the second anniversary concert for the L.A. Lawyers Philharmonic, led by Founder-Conductor Gary S. Greene, a local attorney for more than 34 years.

"As a chorus, we are singing the last movement of Beethoven's '9th Symphony' and portions of 'Porgy and Bess,'" Organ says. "The program should be nicely balanced between classical and jazz. I'm not nervous because I know 99 other people have got my back."
Cindy Organ
Organ, a soprano, has been singing in choirs continuously since the second grade, most recently with the USC Thornton University Chorus.
Smith, also a soprano, sang in the Foothill High School Chamber singers and is one of the musical directors for USC's "Lawcapella" a capella singing group, formed in 2010.

She, Gauger and Organ joined the nascent Legal Voices earlier this year after hearing about the call for singers from Coreen Duffy, an attorney and composer who is pursuing a Doctor of Musical Arts degree in choral music at the USC Thornton School of Music.
The group practices one night a week, which makes balancing school or summer internships less problematic, says Smith, a soprano who is working for the L.A. County Public Defender's office this summer. Organ is a summer law clerk for the business and complex litigation division of the L.A. City Attorney's office and is conducting research for Prof. Michael Chasalow; Gauger is an extern with the U.S. District Court for the Central District of California.

"The chorus is mostly practicing attorneys and a few law students," says Gauger, who sings bass and performed with Savoy Opera Company of Philadelphia. Gauger says it's natural for legal practitioners to perform harmonies together, though they often create discord in the courtroom.
Morgan Smith
"Many of the lawyers in the chorus are litigators or judges or attorneys who appear in court or do public speaking; there is an element of performance to that, and part of what makes a good lawyer is the ability to communicate," Gauger says. "Certainly, one of the best ways to communicate is through music."

Tickets to the concert are $10 to $50 and are selling quickly. Twenty-five percent of the proceeds will go to the Los Angeles County Bar and Beverly Hills Bar foundations for those who cannot afford legal services. For more information or to purchase tickets, click here.
Recent News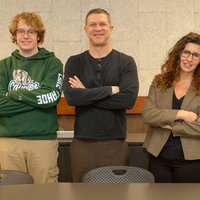 Showing Up for Veterans
November 10, 2017
Gould students and alumni team up to offer legal assistance to former military personnel