Commencement
Friday, May 12, 2017 at 3:30 p.m. in Founders Park on the University Park Campus
Commencement Speaker
The keynote speaker for this year's Gould School of Law Commencement Ceremony is Xavier Becerra, Attorney General of the State of California, and the first Latino to hold the office in the history of the state. Attorney General Becerra previously served 12 terms in Congress as a member of the U.S. House of Representatives. While in Congress, he served as a member of the powerful Committee on Ways And Means, as Chairman of the House Democratic Caucus and was Ranking Member of the Ways And Means Subcommittee on Social Security. Born in Sacramento, California, Attorney General Becerra is the son of working-class parents and was the first in his family to receive a four-year degree, earning his Bachelor of Arts in Economics from Stanford University. He earned his Juris Doctorate from Stanford Law School.
Read more about Attorney General Becerra.
Announcements/Diploma Covers/Rings
USC Gould will provide each graduating student with 10 complimentary commencement announcements for the law school ceremony, which will be placed in student boxes in late March/early April. An email will be sent to you when the announcements are delivered. If you would like more than 10 announcements, there will be a sign-up sheet in the Events Office, Room 475. If you do not need all 10 announcements, please bring your extras to the Events Office for those who would like additional announcements.
You also will be given a complimentary diploma cover from USC Gould when you receive your diploma.
In addition, USC graduation announcements, class rings and diploma frames are sold by USC's official commencement vendor, Herff Jones, and should be ordered through USC's commencement accessories webpage.
Caps and Gowns
Graduating students must rent regalia from the USC Bookstore.
Beginning May 1, go to the third floor "supply desk" at the USC bookstore and inform the staff that you are a graduating law student. Note: Your order cannot be placed before May 1.
A bookstore staff member will take your measurements (height, weight and cap size) before giving you your regalia.
If you are a JD student, please make sure that you receive the RED doctoral gown, a dark purple (not lavender) hood and a yellow (not black) tassel.
If you are an LLM or MCL student, please make sure that you receive the black master's gown, a dark purple (not lavender) hood and a black tassel.
Doctoral regalia rents for: $99.99. Master's degree regalia rents for approximately $79.99.
Location
The ceremony and reception will take place in Founders Park, near Bovard Auditorium and Taper Hall. View a campus map.
Arrival
Students must report to Founders Park no later than 2:30 p.m. on May 12. It is important that you arrive on time as it takes a considerable amount of time to line up all graduates. Family and friends should be seated by 3:15 p.m. so commencement can begin promptly at 3:30 p.m. We ask that you take only the seats you will use so that we may provide seating for everyone.
Please allow plenty of time to get to campus and our ceremony location. Several other ceremonies will take place on campus that day. You should encourage family and friends to bring the map with them as the university will not have directional signs posted for the various ceremonies. We strongly recommend that you find Founders Park before commencement day as the campus will look a lot different when you arrive on May 12.
Tickets
We do not require tickets for the law school's ceremony or reception. Seating will be available for all family and friends.
Commencement Handbook
All graduating students will receive a USC Gould Commencement Handbook in March, which will provide more detailed information about the ceremony and how to prepare for it.
Attire
Commencement is held outdoors in Founders Park. Some of the area will be shaded by trees, but please be prepared to sit in a nonshaded area. We recommend sunscreen, sunglasses, hats, cool clothes and water. Umbrellas used for shade will not be permitted because they block the view for others.
We strongly advise all graduates to wear flat or low-heeled, comfortable shoes in order to navigate the rough grass and the steps leading up to the stage.
Transit and Parking
Parking is free for guests attending commencement-related activities in all USC-owned structures. Please note that you must receive a parking permit from the parking attendant at the entrance booth. Click here for driving directions and map.
If you are traveling by public transportation the Metro Expo Line is highly recommended as the best option to avoid traffic and congestion. It will run on its usual schedule and it stops immediately south of campus at Exposition Boulevard and Trousdale. Fares are sold on TAP cards, so you'll need to buy them at ticket vending machines or from a Metro representative. For more help with planning your trip to USC via Metro, use the handy LA Metro trip planner.
Wheelchair Seating
If someone in your party will require wheelchair seating, please contact the law school Events Office no later than noon on Monday, May 1 by visiting Room 475, calling call 213-740-3841 or emailing events@law.usc.edu. Wheelchair seating must be reserved through this office in advance and is limited to two people per graduate in an effort to accommodate all requests.
Guests with blue, handicapped placards can park in designated handicapped parking spaces in any of the campus parking structures or lots. Guests also can be dropped off at Gate 3, located at Figueroa and McCarthy Way (the entrance for Parking Structure X), which will be the closest drop-off point to the law school's ceremony in Founders Park.
Water
Guests: Bottled water will be available for purchase at nearby USC-managed commencement booths. Typically, commencement is a hot day. We recommend that you bring extra bottles of water.
Graduates: Bottles of water will be placed under each graduate's chair at the ceremony.
Balloons and Air Horns
Balloons and air horns will not be permitted.
Campus Facilities available on Commencement Day
The law school will be open from 7 a.m. to 9 p.m. Food, flowers and restrooms will be available at several locations across the campus, and the bookstore will be open from 7:45 a.m. to 8 p.m. The closest restrooms will be in Bovard Auditorium, Taper Hall and the Von KleinSmid building.
Photographer
Professional commencement photographer GradImages will take individual pictures of all graduating students as they receive their diplomas and cross the stage. These pictures will be available for purchase directly from GradImages. GradImages will contact each graduate after the ceremony for picture orders.
Rain
The ceremony will take place outside, rain or shine. Please check the forecast and come prepared. If you have questions regarding inclement weather prior to event day, please contact the Events Office at 213-740-3841.
Travel Accommodations
STA Travel is the official travel agency for commencement and has negotiated discounted rates with airlines, hotels and rental cars. We recommend that you contact them early to arrange your travel needs by calling 1-800-495-5832.
Social Media
Please share USC Gould commencement photos and stories with #USCGouldGrad.
Post-Ceremony Reception
Immediately following the ceremony in Founders Park, graduates and their guests are invited to attend a reception with light refreshments. Graduates will turn in their caps and gowns, pick up their diplomas and receive a gift from the law school. If you wish to make dinner reservations, we suggest making them for 6:30 p.m.
USC's Main Commencement Ceremony
The USC 134th Commencement Ceremony will take place on the same day, Friday, May 12, 2017, in Alumni Park. The procession will begin at 8:30 a.m. and the ceremony will begin at 9 a.m. For more information, visit the university's commencement website.
If you would like to participate and represent the law school at the main ceremony, please contact the law school's Events Office at 213-740-3841 or at events@law.usc.edu. Please note, the university has allocated a set number of seats for each school. Students must line up and walk in together as part of the ceremony. No late or walk-up seating will be allowed in the designated school seating areas.
Recent News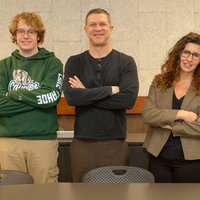 Showing Up for Veterans
November 10, 2017
Gould students and alumni team up to offer legal assistance to former military personnel