Events
U.S. Supreme Court: A Preview
Oct 4, 2012 from 4:30 PM - 6:30 PM
U.S. Supreme Court Preview – Thursday, Oct. 4 at 4:30 p.m.

USC Law is presenting the fifth annual "U.S. Supreme Court: A Preview," featuring distinguished panelists Paul Clement, former U.S. Solicitor General and partner, Bancroft PLLC; Walter Dellinger, former acting U.S. Solicitor General and chairman, O'Melveny & Myers; and Rebecca Brown, USC Newton Professor of Constitutional Law. The panelists will discuss and debate the upcoming U.S. Supreme Court Term.

Lee Epstein, USC Provost Professor and Rader Family Trustee Chair in Law and Political Science, will moderate the discussion.

USC Law, a State Bar of California-approved MCLE provider, certifies that this activity qualifies for a minimum continuing legal education credit in the amount of two hours. For more information, please contact USC Law's Events Office at events@law.usc.edu or call 213.740.3841.
Recent News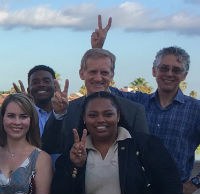 A Memorable 2017
December 20, 2017
With 2018 approaching, we look back at our exceptional year